Bookkeeping & Accounting Software
With a myriad of software options available the first step is choosing what is right for your business.
Make this process easier with our expert advice and experience.
Bizwize is fully trained in the main accounting software programs and highly effective add on software solutions.  We can provide insight into how they work, what they cost and ultimately how they can best be put to work in your business to help with business growth and ATO compliance.
Implementations start from as little as $150, with customised plans that clearly highlight your requirements and work to be completed.
Training and Support is available or if you like we can supplement what you do with our award winning bookkeeping services.
MYOB PROFESSIONAL PARTNER
So much more than accounting software.
MYOB AccountRight is seriously flexible accounting software designed for businesses who want more
Better manage finances

Boost profitability and make better decisions with a real time view of the finances.

Save time

Increase your productivity and spend more time doing what you love.

Stay ATO compliant

Stay up to date with your compliance obligations and work together with your bookkeeper online.
Everything you need to run your business, beautifully.
Xero makes it easy for small businesses to stay on top of their financial situation
Accounting and payroll in one, at one transparent price.

Unlimited collaboration in the cloud with staff and financial advisors

Simple to use and easy on the eye.

Real-time financial data - accessible anywhere, anytime, on any device.

Automatic bank feeds, so you can see where the numbers are at in minutes.
Next generation of QuickBooks - QuickBooks Online
Streamlines accounting even more than your desktop software, so you can spend more time on your business.
Do More in Less Time

Track your income, expenses & profits

Manage BAS & GST obligations

Works on PC, Mac, tablet & mobile

Manage & schedule bill payments

Automate invoicing on recurring schedule

Benefit from the speed, simplicity and flexibility that comes from working in the cloud.
Automating bookkeeping and streamlining Bookkeeping service.
It streamlines accounting even more than your desktop software, so you can spend more time on your business. Receipt Bank
Saves time with smart automation and automatic data extraction

Make it fast and easy for clients to submit receipts and invoices

Integrate with cloud accounting software such as Xero and QuickBooks

Easy to use workflows make bookkeeping effortless
Enquire about Receipt Bank
SERVICE M8 CERTIFIED PARTNER
Smart Job Management for tradies and service businesses
Work smarter with ServiceM8 and Bizwize, set up your business to run more efficiently and profitably. Service M8
Simplify and streamline your business operations.

ServiceM8 Integration with MYOB & Xero

ServiceM8 Setup & Support

Take control and work smarter from the client's first call through to scheduling, quoting, job completion, invoicing and payment.
WORKFLOW MAX CERTIFIED ADVISOR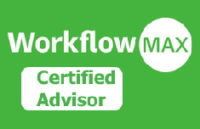 End to end job management software for professional services.
Workflow Max is a powerful job management tool created by Xero to help you streamline your Job, Task & Staff Management Workflow Max
Spend more time on your projects and less time managing them

Seemlessly integrates with over 30 world-class business software products

Lead & client manager with customised & branded quotes & invoices

Easy to use workflows make bookkeeping effortless
Enquire about Workflow Max
Roster staff in minutes and simplify your timesheets with Deputy.
All-in-one employee scheduling, management and communication platform. Roster, Monitor, Message & Manage your Employees. Deputy
Simple perfect rosters with real time view of staff coverage, Auto scheduling & simple shift swapping

Accurate award entitlements with built in Award interpretation & automated wage calculations

Leave Management & simple staff messaging

Easily collect & verify timesheets & export timesheets to payroll with one click
Bizwize bookkeeping and accounting software to improve efficiency and save you time.,
All-in-one bookkeeping and accounting software support.
Integrating accounting software packages

Software Training

Helping you get the most out of your software

Software selection & setup

Bookkeeping services
PURE BOOKKEEPING ACCREDIT PARTNER
Fully endorsed by the Australian Bookkeeping Network .
We are proud to use the Pure Bookkeeping System with all of our clients. We are accredited licensees, and all our bookkeepers have been trained in the Pure Bookkeeping system.
Industry best practice for bookkeeping, reporting and BAS lodgement

Impeccible books and quality service from our fully trained bookkeepers

When your Accountant gets the books at the end of the year, everything will be perfect

If you are audited by the ATO, the process will be a smooth and quick as possible.
Bizwize Business Solutions were established in 2010. At this time Cloud Accounting made up only 2.3% of the global cloud computing market.
By June 2013 cloud accounting apps were used by over 73% of companies, in a 2014 survey it was concluded that Australian businesses were adopting cloud accounting software faster than other countries, with 14% already managing their accounts with cloud bookkeeping software and of those not currently using the cloud for their accounting, most were looking to convert.
Many Small Businesses are still learning the advantages of cloud bookkeeping software, and every day a new application is being developed to steam line and improve business services. Bizwize can help your business understand how to utilise and integrate these tools into your business.
Some businesses are keen to make the change to Bookkeeping software but are concerned with security, technological failures or internet reliability. As these concerns are addressed, more businesses are making the shift into the new technology and at Bizwize we provide expert advice around the decision to move to bookkeeping software, where to go and how to get there.
Cloud-based technologies can not only benefit business owners by helping with their compliance obligations but it can also help in other areas like inventory management, job costing and quoting, invoice and payment collection.
Still not sure about how cloud accounting can help you?
Talk to us.   With experience in every possible industry, our experienced consultants can give you real-time solutions and advise that will ensure your business every chance of  success.
We would love to help you:
Streamline your accounting and bookkeeping processes.
Streamline & Integrate your accounting software with great business management tools, like Receipt Bank.
Get the most out of your accounting software.
Please use the form below if you'd like to enquire about working with Bizwize to implement or get the most out Accounting Software.
Free Coffee & Chat
Contact us today for a free chat about your bookkeeping requirements